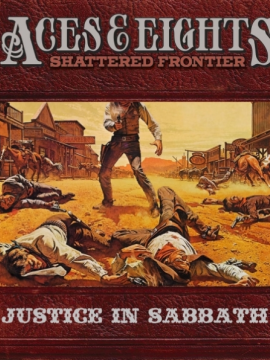 | | |
| --- | --- |
| Director: | |
| Reglamento: | |
| Sistema: | Rol por web |
| Jugadores: | 8 |
| Nivel requerido: | Medio: jugadores con un mínimo de experiencia |
| Ritmo de juego: | Medio: un mensaje cada 2-3 días |
| Fecha de comienzo: | 01/07/2014 |
| Estado: | Finalizada |
Introducción
He simply did what had to be done ... It would be easy, he told himself, to throw everything overboard and disclaim any responsibility. All he had to do was saddle up and ride out. It sounded easy, but it was not that easy, even if a man could leave behind his sense of guilt at having deserted a cause. To be a man was to be responsible. It was as simple as that. To be a man was to build something, to try to make the world about him a bit easier to live in for himself and those who followed. You could sneer at that, you could scoff, you could refuse to acknowledge it, but when it came right down to it… there was no other way.
Sinopsis
While passing through a small town, a bunch of drunken, trail-weary cattlemen go overboard with their celebrating. They return home to Sabbath, a town run by land baron Vince Bronson, a benevolent despot used to buying out or eliminating any and all opposition. Far away from the railroad and goldmines, Sabbath is a nice quiet town. And an ideal place for those who do not wish to be found.
A few strangers ride into Sabbath... A veteran marshal, his young deputy, a few infamous outlaws, a gambler, a bounty hunter… They all come looking for fame, revenge, pay or... Justice. And in the West, justice was often served with a gun.
The local marshal is close to retirement and now a mere shadow of what he once was. On the other hand, the townsfolk of Sabbath are ready to take matters into their own hands in order to keep the peace.
"Justice in Sabbath" is about the West, and about the men who conquered it. It is also about the choices men are forced to make. And how a man gets caught in his own doing. It is not a simple morality tale of good and evil. Everyone has something to fight for and everyone has something to lose. The cowboys and gunmen of the Bronson clan, the marshal and his deputy, and the others. It all builds up to a final showdown and confrontation.
One way or the other, Justice will be served in Sabbath... Or rammed down its throat!
Notas sobre la partida
Partida íntegramente en inglés, usando el sistema "Aces&Eights: Shattered Frontier". La historia es del estilo de western clásico. No es necesario conocer el sistema. Hay tutoriales. Algunos personajes, lugares y partes de la historia están basados en la película Lawman (1971).